Our client came to us looking to create a ring that was significant but light and airy. She fell in love with some custom bands that we've made in the past and loved the idea of mixing different shaped stones. She also wanted to include a larger center stone for some extra diamond power, but didn't want the ring to look like an engagement ring.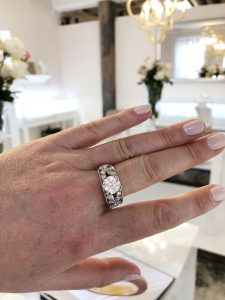 Lots of diamond and it looked amazing on our client's hand.  It's a new year and the perfect time to treat yourself.
Interested in your own custom project? Text us at 617-292-0079.