It's that time of the year – Our friends and their husbands are texting and calling to figure out gift ideas. We love being trusted with such important gifts… In fact, we're always taking pictures of pieces we have in the store, ready to wrap up and go for clients, friends, and family. We first came out with the Mug Club when some friends were Christmas shopping last year in our store.  The men were relaxed catching up & drinking beers in the back while we guided them toward gifts we thought their wives would love. Our first Mug Club member went the custom route. He gifted his wife an engagement ring re-design. The perfect early Christmas present.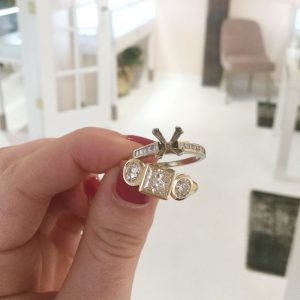 She really wanted something chunky, low but comfortable and she decided to switch to yellow gold. We added two diamonds on the size and this ring turned into an absolute showstopper.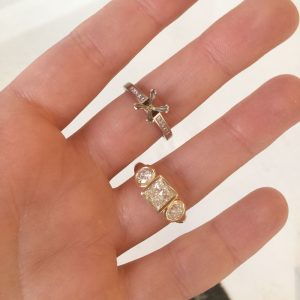 We had our client's favorite beer waiting for him when the couple came to pick up the ring. We won't be accepting new custom projects until after the New Year, but you could be a hero, just like Connor this Holiday Season. Do you like exclusive specials? Do you like beer? Do you want to pick out a good gift this year? Sign up for the Mug Club today!
The M. Flynn Mug Club: Share with us the important dates that you don't want to miss: Birthday, Anniversary, your first date… We will send you a reminder of the date with gift ideas from the latest arrivals in our shop and exclusive flash deals and discounts. The best part is when you pick up your gift, we will have your mug waiting for you with your favorite beer, cheers!
For Mug Club Members Only: Don't miss out on Mug Club Day – Saturday, December 20th. It's the perfect opportunity to pick up those last minute gifts but in order to take advantage of all the day's perks, you MUST be a member!
Sneak Peak Mug Club Gift Ideas
Tuesday – Friday 11am – 6pm
Saturday  11am – 5pm
Email or call with any gift inquiries, info@mflynnjewelry.com