We've been seeing a lot of color lately in jewelry. From our designers, like Melissa Kaye's diamond and ruby inside/outside hoops and Brent Neale's magic mushrooms, to our recent cabochon collections and custom projects, we're having so much fun with all the color. Take a look at some of our recent colorful ring pickups that were made using client's existing stones…
Our client (who also happens to have one of our most favorite custom rings) and her husband brought in her late mother's amethyst and wanted to make something that was comfortable and she could wear every day. First, we needed to give the stone a spa treatment by cleaning and then recutting the heavily scratched, chipped stone.
Once the stone was sparkling and gorgeous, the couple designed a rose gold bezel ring with us, and her husband surprised her with this gorgeous ring for an early birthday present. We talked about giving the ring a satin finish, but we fell in love with the polished rose gold look with purple in the amethyst.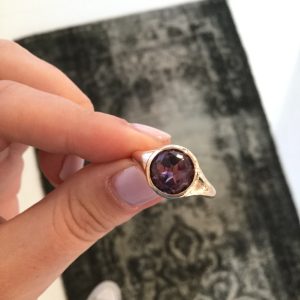 Sometimes it's easy as just popping stones out of an existing piece and setting it into a simple band. That was exactly the case when a client came to us with a pair of inherited emerald and diamond huggies that just weren't being worn. She really wanted to make a simple patterned band that she could stack and wear everyday. She went with a platinum channel set band using all of her stones. This new piece, created with family stones, made for a truly special push present!
Last, but not least… Our client got a Tanzanite on a trip to Africa (Fun Fact: Tanzanite is only found in Tanzania) and really wanted to have the stone set into a fun cocktail ring. We went back and forth with different ideas, and she fell in love with a few color double halo rings that we've made in the past. We surrounded her tanzanite with diamonds and then another row of bright emerald cabochons and set the ring in rose gold. The mix of the faceted diamonds and cab emeralds make this ring so unique. We could not stop staring at this stunner.
Interested in transforming your jewelry into something new?  Text the store at for more info at 617-292-0079!