We've been so excited about this custom project since our clients first came in for their meeting with Moria.  This couple has been together since college and, as we often see, your jewelry tastes can change as your life changes. But there was a bonus to this project.  Not only did we make a new engagement ring (a process that she was involved in) but her husband surprised her with a new wedding band on their anniversary. The combo is AMAZING, we love how they look together!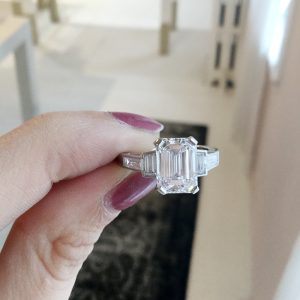 The original ring was round and our client really felt like it would be great to look into something a bit different. She had eyed some oval rings in our case but ultimately decided on the emerald cut center stone.  She felt like it was regal and a understated.  She liked the look of a solitaire but really liked the idea of some detail on the sides to make it special.  We ultimately decided on the amazing emerald cut center stone accented by custom-cut trapezoids and tapered baguette side stones.
We love the way the ring came out, but add an emerald-cut eternity band and we can't get over this wedding set. What happened to her original engagement ring? Stay tuned!