We've heard a lot of you are having the 10 year itch….you know what that is, right? After 10 years of wearing your engagement ring, you feel like it's just not who you are now. Perhaps you loved it because of what it represented but it was never your style (YIKES)? Also, maybe you don't want to hurt someone's feelings?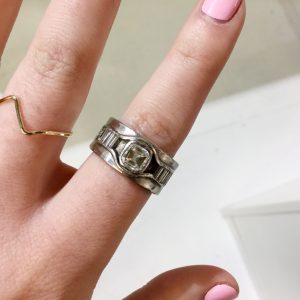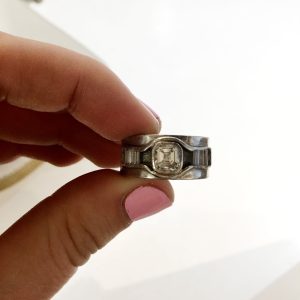 Moria has had that itch for a while. Her husband thoughtfully had a ring made for her… A heavy ring with an beautiful asscher center & clean baguettes.  She loved it but the heavy design really hid the beautiful stones. The more she studied her ring, she knew she could really make the ring a lot better. So after some careful negotiations, she did. She added a custom-cut baguette halo and incorporated some of her side stones from her original ring into the new ring.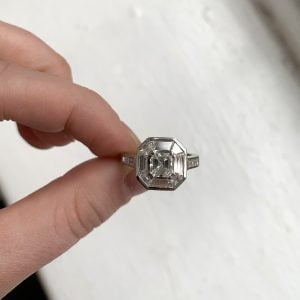 Maybe it's as simple as adding a halo, side stones or changing the metal color. Many clients decide to start fresh and choose a new stone: The stone shape & size they've always wanted… It's always so fun to work with clients to create the perfect ring that fits their style. We often turn the original engagement ring into a beautiful pendant or match the stone for a pair of diamond studs.
Do you want to create the ring of your dreams?  Contact us!