A client brought in an antique 3-stone ring featuring a sapphire and 2 beautiful diamonds for a remake project. She fell in love with our Heirloom Studs that are a part of our Erin Gates Collection, but the stones were a little bigger than what we typically use in the earrings.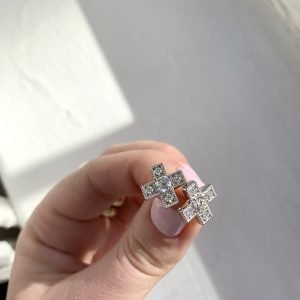 We made a few adjustments on the CAD to make her stones work with our earrings and they came out SO pretty! We love how the antique stones are the star of the show, but they're flanked by the new 4 surrounding stones in a more modern (but still classic) setting. They filled the ear so nicely and they looked beautiful on.
Sometimes custom projects can be as simple as making a few quick adjustments on a design that we already make. If you're curious about how to make your existing jewelry pieces fit into our designs, text us at 617-292-0079 and we will help!