We love a sentimental jewelry remake story. Our client was given her grandmother's engagement ring—it was a diamond center accented by two small diamonds on each side. The four diamonds signified her grandmother's four children.   Our client wanted to remake the ring into something she could wear every day.  In addition, she wanted use the smaller stones in a band that she would gift her mother…she thought it would be nice for her mother to share the family ring.
For her mother's band we added sapphires to create an alternating diamond & sapphire band using the extra the original ring's sentimental side stones.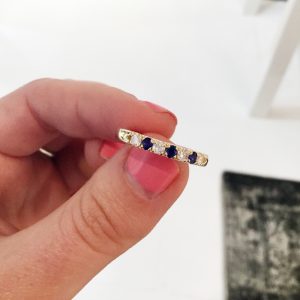 For our client's ring: She wanted to accent the large diamond center stone with some  blue sapphires. We brought in several pairs for her to choose from and she decided to go with a pair of amazing ceylon blue sapphires. We love the way this ring really filled the finger.
Interested in your own custom project? Email us at info@mflynnjewelry.com or text us at the store 617-292-0079!