We love to remake and redesign jewelry into something new & exciting. A client came to us earlier this year with an amazing rework project that we could not wait to get started on.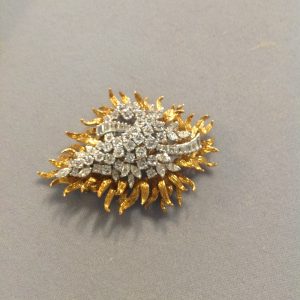 She brought in an absolutely stunning gold brooch that her husband had gifted to her years ago, which was covered with marquise, baguette and round diamonds. She loved & treasured the brooch, but it just wasn't something that she wore very often, and she wanted to create something more practical for everyday wear.
This piece had SO many beautiful diamonds that we didn't even know where to begin! The client was thinking that she would like a significant ring with a unique design. The brooch had a lot of really interesting cuts, and we thought it would look nice to design a ring using the brooch's bigger marquise shaped stones.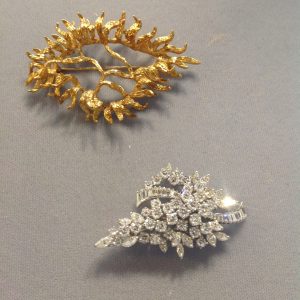 The client wanted a ring that was practical, comfortable, and easy to wear. She decided that she'd like a right hand ring, and wanted it to have a significant, wide appearance, while still maintaining it's comfort. Moria put together a design that would use marquise diamonds in a pattern with rounds and for comfort sake, the diamonds were set half way around the ring.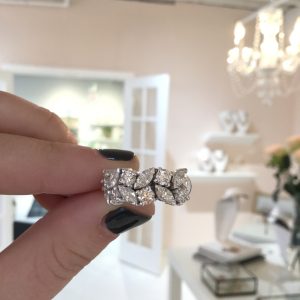 The result was this beautiful statement piece. There are still SOOOO many diamonds to use and we have a few more fun projects to post so stay tuned!
UPDATE: See what else we made with this amazing brooch!