A client came to us with treasured jewelry from her late mother that she wanted to repurpose and wear as a new engagement ring.  Her very intimate New Orleans wedding was planned and she just needed the ring.
From the jewelry she brought in to us to evaluate, we decided to use a pair of diamond studs and a simple diamond ring for the project.  We would design a  beautifully large 3 stone ring in rose gold.  But there was a catch to the design process – The matching side stones were larger than the center stone.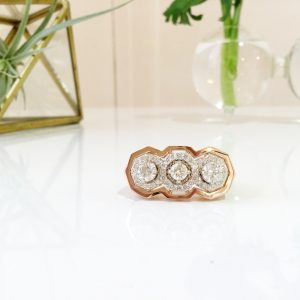 We needed to create the illusion that the center stone was indeed bigger than the side stones and give the rings the symmetry we expect in the 3 stone ring.   The client loved a design of a 3 stone ring with 3 halos.  This design would lend very well to our design issue because we could subtly add larger stones to the center stone to make it look bigger and we used a smaller stone around the matching diamonds. The result was flawless, meaningful and a ton of diamond. ​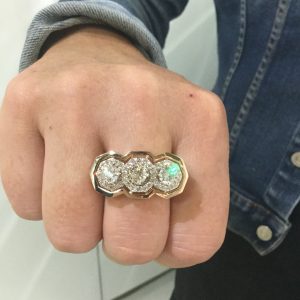 Congratulations to the happy couple who was just married in October!  Her husband also earned a "cheers to the guy" post  for his thoughtfulness when he picked up the ring 🙂