We've had some really fun custom projects picked up recently. Here's a little round up:
Project 1:
Our client wanted a pair of unique diamond studs. She really wanted to use different shapes and she loved the idea of pear diamonds. To make her earrings stand out, we added 3 marquise diamonds to each ear. We all want a pair now… they fill the ear!
Project 2:
A client wanted to get something very special for her son's 30th birthday. She had a ton of loose diamonds varying in size, along with a princess cut sapphire. They both met with us about the project. He wanted a masculine long necklace with a little bit of bling. He decided to make a long bar necklace and we set the diamonds randomly to fill the piece. This picture does not do the piece justice… It looked so cool.  He was able to wear it outside his shirt or tuck it in. We also engraved the back with his initials. Happy 30th!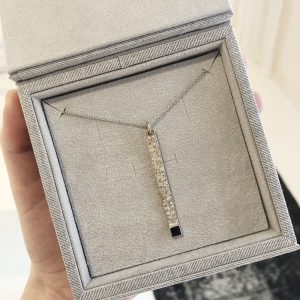 Project 3:
Our client had many pieces she inherited & treasured but she didn't wear. Most of the projects were very straightforward, but the final one was a little bit more tricky to re-design.
She wanted to make a band with the side diamonds (emerald to be used at a later date), but each row of diamonds were a different size and she wasn't sure how she felt about princess cut stones. We decided to make a really fun stacking ring with varying sized stones and changed the direction of the stones. The end result was so unique and pretty.