One of our client came to us with the thoughtful idea of gifting her sister a pair of custom ear jackets to accent her diamond studs, AKA a little extra BLING. We wanted the jackets to come out just right so we put of our cute Gift of Custom Cards in an M. Flynn box with a bow and asked her to send us the earrings so we could get the perfect fit.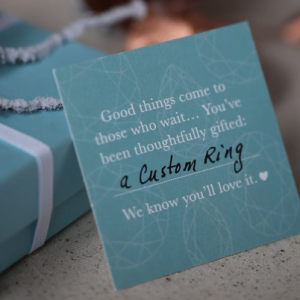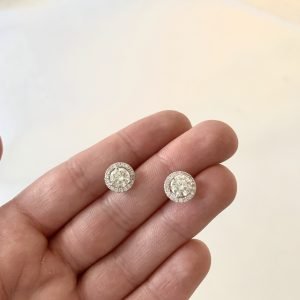 She got to experience working with us one-on-one and we were able to work with her existing earrings to make sure the diamond filled jackets fit like a glove. Now she can have two earrings looks: 1 is a classic everyday look, and the other is a total amp up. Sisters always know what we really want for our birthday.
[vc_empty_space][vc_raw_html]JTNDY2VudGVyJTNFJTNDaWZyYW1lJTIwc3JjJTNEJTIyaHR0cHMlM0ElMkYlMkZnaXBoeS5jb20lMkZlbWJlZCUyRlJKRFZtaTY4VEw3ZjFIc2pBTSUyMiUyMHdpZHRoJTNEJTIyMjcwJTIyJTIwaGVpZ2h0JTNEJTIyNDgwJTIyJTIwZnJhbWVCb3JkZXIlM0QlMjIwJTIyJTIwY2xhc3MlM0QlMjJnaXBoeS1lbWJlZCUyMiUyMGFsbG93RnVsbFNjcmVlbiUzRSUzQyUyRmlmcmFtZSUzRSUzQyUyRmNlbnRlciUzRQ==[/vc_raw_html][vc_empty_space][vc_column_text]
We know many of us are stuck at home – some trying to stay busy by organizing… So, if you come across jewelry that's been sitting around and could use a little love, let us know how we can help! Fill out our inquiry form below and we will get back to you. The store might be closed for the time being, but we're still here shipping, working on custom, and answering your jewelry questions. Hope to see you soon!
[vc_empty_space][vc_raw_html]JTNDZGl2JTIwY2xhc3MlM0QlMjJ0eXBlZm9ybS13aWRnZXQlMjIlMjBkYXRhLXVybCUzRCUyMmh0dHBzJTNBJTJGJTJGaW5mbzgxMTA3OC50eXBlZm9ybS5jb20lMkZ0byUyRlpVa1JnMCUyMiUyMGRhdGEtdHJhbnNwYXJlbmN5JTNEJTIyMTAwJTIyJTIwZGF0YS1oaWRlLWhlYWRlcnMlM0R0cnVlJTIwZGF0YS1oaWRlLWZvb3RlciUzRHRydWUlMjBzdHlsZSUzRCUyMndpZHRoJTNBJTIwMTAwJTI1JTNCJTIwaGVpZ2h0JTNBJTIwNTAwcHglM0IlMjIlM0UlM0MlMkZkaXYlM0UlMjAlM0NzY3JpcHQlM0UlMjAlMjhmdW5jdGlvbiUyOCUyOSUyMCU3QiUyMHZhciUyMHFzJTJDanMlMkNxJTJDcyUyQ2QlM0Rkb2N1bWVudCUyQyUyMGdpJTNEZC5nZXRFbGVtZW50QnlJZCUyQyUyMGNlJTNEZC5jcmVhdGVFbGVtZW50JTJDJTIwZ3QlM0RkLmdldEVsZW1lbnRzQnlUYWdOYW1lJTJDJTIwaWQlM0QlMjJ0eXBlZl9vcm0lMjIlMkMlMjBiJTNEJTIyaHR0cHMlM0ElMkYlMkZlbWJlZC50eXBlZm9ybS5jb20lMkYlMjIlM0IlMjBpZiUyOCUyMWdpLmNhbGwlMjhkJTJDaWQlMjklMjklMjAlN0IlMjBqcyUzRGNlLmNhbGwlMjhkJTJDJTIyc2NyaXB0JTIyJTI5JTNCJTIwanMuaWQlM0RpZCUzQiUyMGpzLnNyYyUzRGIlMkIlMjJlbWJlZC5qcyUyMiUzQiUyMHElM0RndC5jYWxsJTI4ZCUyQyUyMnNjcmlwdCUyMiUyOSU1QjAlNUQlM0IlMjBxLnBhcmVudE5vZGUuaW5zZXJ0QmVmb3JlJTI4anMlMkNxJTI5JTIwJTdEJTIwJTdEJTI5JTI4JTI5JTIwJTNDJTJGc2NyaXB0JTNFJTIwJTNDZGl2JTIwc3R5bGUlM0QlMjJmb250LWZhbWlseSUzQSUyMFNhbnMtU2VyaWYlM0Jmb250LXNpemUlM0ElMjAxMnB4JTNCY29sb3IlM0ElMjAlMjM5OTklM0JvcGFjaXR5JTNBJTIwMC41JTNCJTIwcGFkZGluZy10b3AlM0ElMjA1cHglM0IlMjIlM0UlMjBwb3dlcmVkJTIwYnklMjAlM0NhJTIwaHJlZiUzRCUyMmh0dHBzJTNBJTJGJTJGYWRtaW4udHlwZWZvcm0uY29tJTJGc2lnbnVwJTNGdXRtX2NhbXBhaWduJTNEWlVrUmcwJTI2dXRtX3NvdXJjZSUzRHR5cGVmb3JtLmNvbS0wMUUzMlZOWjg0NTZFMFczOVYwMTNGQVZORS1wcm9mZXNzaW9uYWwlMjZ1dG1fbWVkaXVtJTNEdHlwZWZvcm0lMjZ1dG1fY29udGVudCUzRHR5cGVmb3JtLWVtYmVkZGVkLXBvd2VyZWRieXR5cGVmb3JtJTI2dXRtX3Rlcm0lM0RFTiUyMiUyMHN0eWxlJTNEJTIyY29sb3IlM0ElMjAlMjM5OTklMjIlMjB0YXJnZXQlM0QlMjJfYmxhbmslMjIlM0VUeXBlZm9ybSUzQyUyRmElM0UlMjAlM0MlMkZkaXYlM0UlMEElMEE=[/vc_raw_html]