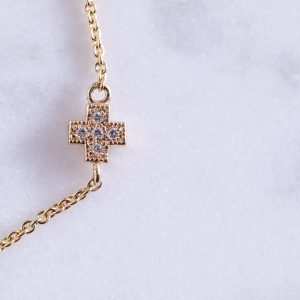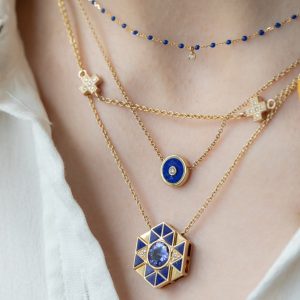 Mini Heirloom 5-Station Necklace
The Reversable Mini Heirloom Station Necklace from The GATES Collection by M. Flynn features 5 small heirloom pendants, each with 5 full-cut diamonds on one side and a single full cut diamond on the reverse side.  This necklace is meant to be worn all day and flip around for a fun ever-changing look.  Erin originally came up with the Heirloom Collection when we worked with her to redesign some family jewelry into something more current and easy-to-wear.
The Heirloom Collection is a part of M. Flynn's collaboration with interior designer and blogger, Erin Gates.  Read all about Erin's remake in our portfolio – Email us at info@mflynnjewelry.com to learn more about our REMAKE|REDESIGN services!
Please see below for availability on some pieces that may not be in stock.