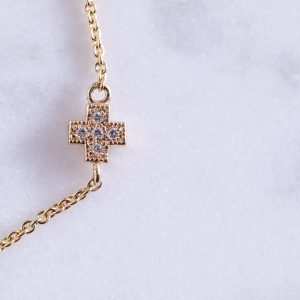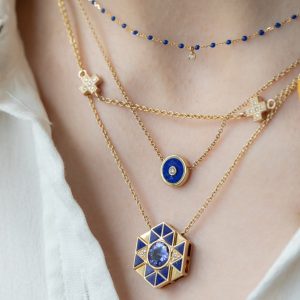 Mini Heirloom 5-Station Necklace
The Reversable Mini Heirloom Station Necklace from The GATES Collection by M. Flynn features 5 Small Heirloom Pendants, each with 5 full-cut diamonds on one side and a single full cut diamond on the reverse side.  This necklace is meant to be worn all day and flip around for a fun ever-changing look.  Erin originally came up with the Heirloom Collection when we worked with her to redesign some family jewelry into something more current and easy-to-wear.
The GATES Collection by M. Flynn is a jewlery collaboration with interior designer and blogger, Erin Gates.
Some items are in stock. Those items will ship within 3 days. Normal production time is 2-8 weeks depending on the piece. Please text us to inquire – 617-292-0079.